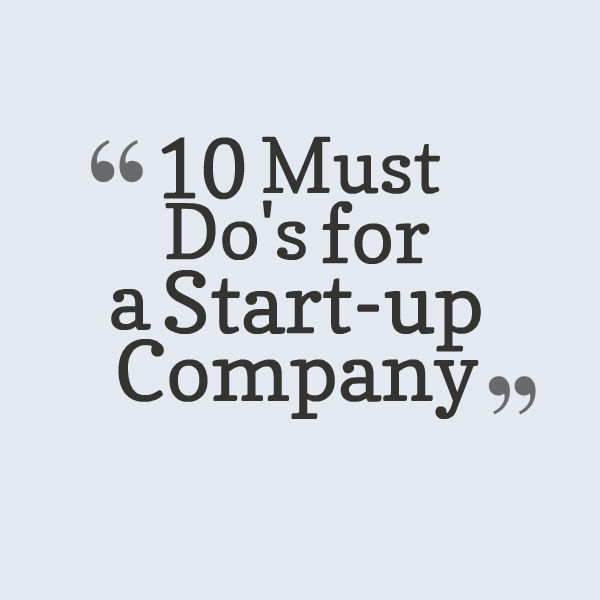 10 Must Do's for a Start-up Company
So you have your million dollar idea, thought of a catchy company name, and even registered a d.b.a. with the city, what's next? Before you even consider doing search engine optimization, make sure you've built a solid foundation for your business by choosing the right...
Got Logo? etc….

Assuming you picked a company name where the dot.com is available, branding and identity is one of the most important aspects of a new business that often gets overlooked. Startups are so eager and excited to do business that they rush the foundation, namely, the logo.

The three key elements in a good logo are 1)Simplicity 2)Memorableness and 3)Scalability. Does your logo have all three? One aspect of simplicity refers to only using a couple colors, probably not more than three. Sure there are exceptions depending on what industry you're in, but the more colors your logo has, the more it looks like puke. H&R Block's logo is a green square.

Memorableness-- I've always loved using the FedEx logo as an example, where the "E" and the "x" form an arrow.

Does your logo look like every other logo out there, or is it unique? Scalability involves your logo looking good very small (on a business card) or blown up very large (think of a billboard). If there is too much detail on your logo, it's not going to look very good on a business card. If you rushed it and didn't create it with high resolution, it's going to look like crap if you blow it up and put it on a banner. The McDonald's Golden Arches logo is also a commonly used example as having all three traits of a great logo: being simple, memorable, and scalable.


Recommendation
I highly recommend 99Designs.com for new businesses. I've used them before and was very impressed with the results. 99Designs is a site where you can run a contest to design your logo-- you set the amount of money awarded to the winning designer. This should be somewhat obvious, but the more money you offer, the more submissions and better quality designers will try to win your contest. That being said, for just a few hundred dollars, you can get a professional looking logo customized exactly how you want. The beauty of the contest is this: in the process, you might get many different ideas for your logo that you did not initially have. You can also tell designers to change this or that about the logo before you assign the winner. So great. I'm sure there are many other options, but 99Designs is the one I'm familiar with.
CRM System

CRM stands for "customer relationship management" and there are many solutions out there. How are you going to keep track of all your clients and customers? Leads? Vendors?

(Note to self: Microsoft Excel is not a CRM system.)

Salesforce is an example of a very robust (does almost anything you need) system but might do "too much" or more than a small business really needs. It's also pricier than some other available options. On the other hand, you have Highrise (by formerly 37Signals), which is one of the simplest CRM software services and very user friendly, but might lack some advanced features.

I'll give you an example. I haven't used "Highrise" in a while (2010), but back then they did not have the ability to create "custom fields." That's probably fine for most businesses. A field is something like "Name" or "Address" or "notes" or "mobile phone number." But what if you're an attorney and want to categorize your clients based on the industry that they are in, and want to sort your clients by that category-- then you will need the ability to create "custom fields" in your CRM.

Before you decide on a service, make sure it has all the features you need, because it can sometimes be a big headache to switch from one system to another. Some CRM systems charge by how many contacts you have, and some charge by how many users you will have using the system, or a combination. Most of the CRM services out there today have good integrations for importing and exporting data, but it can't always be expected to be seamless.

I started out in the "old school" days, where your CRM system was stored on your hard drive, so I can really appreciate how far CRM systems have come since then. Today, I will only consider a system that is SaaS-- software as a service, meaning cloud-based and accessible anywhere with an internet connection. I also believe that having an iPad/Android app to complement the system is almost a requirement of any decent CRM service.

Recommendation
There are many good competitors out there, but my current recommendation for a new business would be Insightly. The service scales well (as your company grows) and their freemium service is pretty awesome: you get up to 3 users and something like 1,500 contacts before you have to pay for a plan. Thus, for a young bootstrapping startup, you might not have to pay a dime for your CRM service until you get much larger. It's also extremely robust, a characteristic of much more expensive services. It's also very user friendly.

The last thing you want to do is skimp out on your CRM system because you cannot afford it. Get the one you think you will be using a year from now.
Email Management System

What!?" You say. "But isn't Gmail my email management system?" No. Gmail manages your personal (or work) emails, but is not designed to manage large customer lists. Anytime you plan on sending emails to all your customers or a segment of your customers, you really should be using a third party system to do so (instead of BCC'ing everyone). If you plan on sending regular newsletters (virtually every business should be) then you need a system to manage your email.

We recommend MailChimp and ConstantContact. MailChimp winning because it has the best free plan (free forever for lists with less than 2,000 Subscribers).
Pick a niche

We would all like to think that anyone can be our customer. While that may be true, there is a ton of competition, so we have to be more realistic. "Where can we really win and dominate?" "What are we best at doing and what do we want to be known for?" Asking these questions can help shape your marketing strategy and how you plan to get leads/sales. I'll give you an example-- Amazon.com is a marketplace for almost anything now, but they started out by carving out a niche as THE online market for new and used BOOKS. BOOKS. That's right. From books to now everything, go figure.
Project Management System

Firstly, what is a project management system? Before I ever used one, I was keeping track of my to-do's in excel. I had my "to-do" in the first column, then in the second column, I would assign a number based on the importance of the task. "1" for the urgent things and then "3" for the not so urgent items. Every day I would revisit the list and reassign the numbers. Hey, that might still work for some of you out there.

With a fully functional project management system, you will be able to: create to-do lists within projects, assign projects and to-do's to different team members, get a real-time view of what tasks are being completed, reassign to-do's to different people, assign due dates, comment on tasks, and much more.

Some of your CRM services will have built-in project/task management systems that will suffice for your needs. However, the best (in my opinion of course) project management systems won't always be built into your CRM. Although most simpler businesses could probably get by with the service included in the CRM, I've always preferred using two different services for my CRM and Project Management.

Recommendation
My current recommendations would be Asana or Basecamp. Both are very simple and user-friendly. Asana is preferable because it has more features and customization, and it's "freemium" plan can last you quite a while. Again, there are probably many great competitors in this space, but those are the only two that I'm very familiar with.
Operations Manual

This can be as simple or complex as you want to make it. But, it is very necessary to have one. From "what happens when the phone rings," to how a client is billed, to how often to follow up or send emails to existing clients, there should be a clear written process for every foreseeable action that will occur in your business.

This may not seem necessary initially, but if you have to replace an employee (quits or you have to fire them), you will be very thankful that you made an operations manual so that you have a list of every task that employee was responsible for. Even if you're a sole proprietor and the only employee, it will be good to make an operations manual so you can quickly get a new employee up to speed when you do eventually hire someone.
Search Engines & Local Directories

So you've got your foundation built (including your website) and now you're ready to get found. Make sure your business is listed on all the free online directories: Google, Bing, and Yahoo being the three major ones. Even though those three make up the majority of internet traffic, there are over 200+ other smaller or local directories that are also free. You could go one-by-one and submit your business to each one, or use a paid service that will submit to them all at once and keep them updated.

Recommend
The ones that I'm familiar with and would recommend are BrightLocal and WebCEO. If you're using a professional SEO or internet marketing company, they should be doing this on your behalf.
Social Media Plan

By now, it seems obvious that all companies need to be on social media, because that's where your customers are spending a lot of time. Everyone's doing it and many companies are getting a lot of leads, sales, and exposure from it. Facebook, Instagram, Twitter, and Google+ are some popular ones. SnapChat is a newer platform that is growing fast. It's almost a requirement to have a LinkedIn profile too. There are also programs like Hootsuite to help you manage all your social media under one roof.

Before jumping the gun and signing up for them all and posting the same content at the same frequency on all the platforms, it's probably better to set out with a plan. Make sure you have someone monitoring it daily or it's not worth doing at all. Some things to consider are the demographic of your audience and the industry that your business is in.
Sales Funnel

Cold Leads turn into warms leads, turn into prospects, and then clients. Since this is the lifeline of your business, do you have a solid plan to keep the blood flowing? Do you have a sales script? Who deserves a call, an email, and how often? The top of the funnel, the generation of new leads, whether through organic search or pay per click or cold calling, is probably the single most important aspect of the business in terms of it surviving over the long term or not. You must have a plan for generating new leads because that is how you're going to make money.
Coffee Maker

If you have all of the above covered, then I think the coffee maker is the next most important decision you have to make. If it's too small, you might run out of coffee and this could really disrupt employee morale.